If you'd like to remain active, at least for some of your stay, there's plenty to keep you going with many top class facilities here at Easington Beach for all ages young and old to enjoy.
Why not loosen your muscles in our Indoor Heated Swimming Pool, which is always fully supervised for your safety.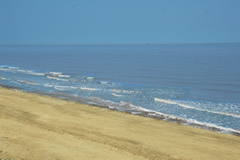 If you're looking for an outdoor pursuit, there's a a superb hard surface Tennis Court for the competitive and casual players alike. For those looking for a less strenuous, but just as skillful pursuit, practise your golf stroke on our Putting Green.
There's a large Playing Field for a wide variety of games including Football and Cricket, plus other organised events such as Sports Days, as well as an Adventure Playground for the children to discover.
As the name of the park suggests, Easington Beach really is right on the beach, with direct access to the beautiful golden sands.
If it's entertainment you're after, or if you'd just like to wind down after all that activity, The Long Beach Club is just the place for all the family. With regular live entertainment, snug bar and children's room, all are catered for to ensure a great night out.
Of course, you could always put your feet up and relax in the comfort of your own Luxury Holiday Home ……